Our MTNA-sponsored competitions are one of the crown jewels of the Music Teachers National Association. Their long history of excellence, starting at the state level and concluding in gala events at the National Conference, is unique in the world. I'm proud to have my students be part of the excitement.
Is music a competitive art? The answer is complicated. In my opinion, the overall answer is, no, it's expressive. Despite that, I enter students in MTNA competitions every year. I believe that having a goal focuses attention and motivates improvement. Most important, competing in MTNA events gives these wonderful young people a chance to earn recognition for their talent and hard work. They deserve it.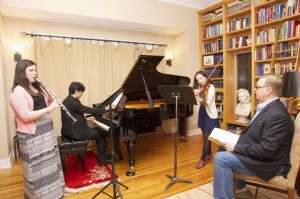 We're off again today! My chamber group Ensemble Kiowa (Chamber Music–Strings) and I are on our way to Fargo, ND. Ensemble Kiowa is the Kansas state winner and will be competing in the West Central Division competitions against the other state champs from our region. We've been working hard and our hopes are high.
Wish us luck!
---