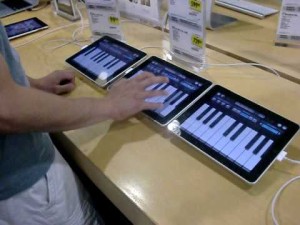 To me, it seems like the technology revolution has arrived. In my local teachers group, even older teachers (OK…the same age as me) are creatively using their iPads for teaching in ways that would have been astonishing even two years ago.
I started to write this blog post on February 7, after just finishing serving as moderator for a discussion group at the online MusicEd Connect Conference. We were scheduled to discuss "Memorization", the topic of my workshop a couple of days earlier. We did talk about it–for about 2 minutes. Then followed a lengthy and lively discussion about distance learning, camera set-ups and favorite apps. I learned a lot.
For the teachers in my MusicEd Connect group, as in my local Music Teachers Association, technology has transformed teaching. But has it for everyone? "People assume technology is a done deal in music teaching," Mike Bates told me in an interview. Mike is the retired head of Institutional Sales for the Yamaha Corporation, now working as an independent consultant. "Music teachers' attitudes still need to change. Technology is the way children learn these days. Even little kids can intuitively use devices."
Many have concerns about this. Do children spend too much time staring at a computer, and not enough time playing outdoors? Maybe…but since the average eight–ten year old child spends eight hours a day in front of a computer screen 1, perhaps more important questions for teachers to ask themselves are: what activities take place when students use technology? and what is the educational outcome?
The Joan Ganz Cooney Center did a survey about children's use of computers. They found that kids from aged two–ten spent less than half of their screen time on "educational" material. What if we took part of their computer time and used it for music learning…would more people play an instrument? Would they reach a higher level of accomplishment? Early research seems to answer "yes".
I believe that technology and social media have the potential to revolutionize music teaching and expand opportunities for music study to more students than ever before. Educational technology, used by qualified teachers, can make the learning experience more fun and ultimately more successful.