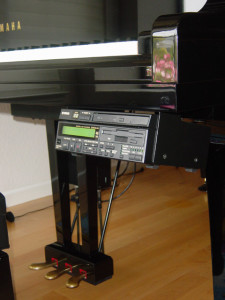 The first reason that technology will help us reach more students is simply financial. Acoustic pianos aren't cheap. Nor are private music lessons. Surveys indicate the overwhelming majority of American families want music lessons for their children, but that costs associated with this are a major impediment to music study. Sales of acoustic pianos have been down since the 1970s, as sales for more affordable—and perhaps more "hip"—guitars have skyrocketed (according to the Music Trades Industry, a total of 3,302,670 electric guitars were sold for the year 2007 in the United States, compared to 62,536 total pianos. 1)
Author and educator Kristin Yost makes an interesting point. "I keep reading articles about decreasing sales of acoustic pianos," she told me. "But does this mean that piano teaching is declining? Or is it that the entry point for study isn't always an acoustic piano?"
I see the increased availability of reasonably priced digital pianos as a boon to piano teachers. More students can afford to take lessons. And as distance learning becomes more common, teachers will be able to reach more students, rather than limiting themselves to those who can travel to the teacher's studio.
I am a great advocate of Yamaha's Disklavier. The University of Kansas owns one, and I have my own in my home studio. I consider it the greatest innovation in piano teaching in the history of the instrument. The play-back-at-any-speed capability alone makes it unique; I don't believe we have even begun to tap its distance learning capabilities. The Yamaha Disklavier Education Network is a great hub for teachers who use this marvelous technology.
I believe we will continue to see development of hybrid grands, with elements of the traditional acoustic piano enhanced with electronics. "These are the wave of the future," Mike Bates, the retired head of Institutional Sales for the Yamaha Corporation, told me. "They are much more durable, require less maintenance—and the price point is appealing."
There are many instrumental options for people who want to learn to play the piano. No one I know thinks keyboards will replace the grand piano. But any technology brings more people to music making is a good thing.