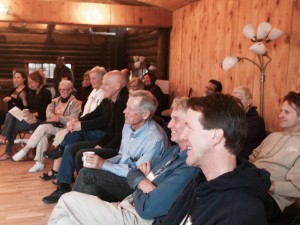 I applaud everyone who studies the great art of playing the piano, but I have a special place in my heart for adults who begin—or return to—piano study at a mature age.
A recent article in the New York Times detailed 59-year old Sara Solovitch's comeback performances, beginning at the San Jose Airport (not as odd as it might seem, really; people passing through aren't listening all that closely, which might be a good thing for an inexperienced performer), complete with sweaty palms and pounding heart. "I looked like a cornered animal," she says, "and sounded like a robot."
In her successful quest to return to performance after a 40-year break, Ms. Solovitch tried everything to calm her nerves. The problem wasn't a lack of desire. "Upon returning to [playing the piano], I discovered I loved it more than ever. I practiced as much as I could, sometimes for two or three hours a day."
Playing in front of others? Not so much fun. To conquer her fear, she tried biofeedback, deep breathing, cognitive behavior therapy, Alexander technique and even drugs: beta blockers, which her doctor called "the public speaking drug."
There is another option: attending an adult piano camp. The one I know the best is the Adult Piano Seminar at the Rocky Ridge Music Center, for the simple reason that I just finished teaching at their 2015 session.
Rocky Ridge was founded by a remarkable woman, Beth Miller Harrod, in 1942 in the beautiful Colorado Rockies outside of Estes Park, CO. A student of Josef and Rosina Lhevinne, who spent summers in the area in the 1930s, Beth (everyone is on a first-name basis at Rocky Ridge) began with a group of seven girls, who lived in one big cabin and practiced on pianos scattered around the area. The program has grown to encompass both genders, chamber music, orchestra and programs for all ages.
This year's Adult Seminar attendees were a wonderful group of supportive adults, who provided enthusiastic support to each other, inexperienced or veteran. Their love and commitment to music was palpable, and their enjoyment of being together infectious. I'm looking forward to being back again in 2016.
Here are some additional photos from my time at Rocky Ridge: