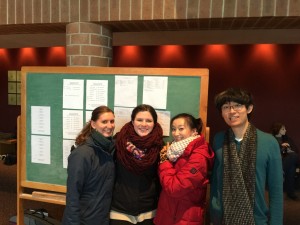 I thought (feared might be a better word) that this might be my final blog about MTNA Competitions, at least for now. But there will be a few more miles for me to travel, in every sense, since the University of Kansas string chamber group of which I am co-coach, Ensemble Kiowa, received First Place in the West Central Division Competition in Fargo, ND and will go on to compete in the National Finals in Las Vegas on March 21.
Below you will find a short video of the students in the group when they heard the announcement that they won. The cinematography (by me) leaves a lot to be desired, but I want you to see how excited they are and how much the MTNA Competitions means to them.
I sometimes hear criticism that our MTNA Competitions take too much from our organization: too many resources and too much volunteer time. Of course there is always a reason to offer legitimate criticism and practical solutions. But not sponsoring MTNA competitions is, to me, a "no go".
It goes back to my "big umbrella" theory of MTNA. Just as MTNA should sponsor programs in popular music and improvisation, we should also offer events for the highest level of traditional music making. The MTNA Competitions are unique in the world in their range and scope, involving students from all 50 states. I'm very proud that my students and I can be part of them.
Problems? Or course there are a few. As I remind pupils, we are on earth, not in heaven, so perfection is not to be expected. The expense for students performing can be considerable. I estimate that taking Ensemble Kiowa to Fargo cost in total about $1800—and this is just one round of the competition. The cost is definitely a bar to participation for some.
But I can testify about the benefits from my own experience. Another KU chamber group that I coached, the Wakarusa Trio, was the MTNA Chamber Music–Strings winner in 2013. The group has now disbanded as individual members pursue their own dreams.
But before they moved on, they won the Coleman-Barstow Prize for Strings as the Best String Group at the 2014 Coleman Chamber Ensemble Competition, the world's oldest chamber music competition. This, and their win at MTNA, led to a wealth of personal and group opportunities that we could never have imagined.
More important, though, is the personal growth that each member (including me) earned by setting a goal, working hard to achieve it and coping with all the problems and disappointments along the way. And, finally, the real confidence that emerges when success is achieved. All of this, to me, is the real reason we have MTNA Competitions.