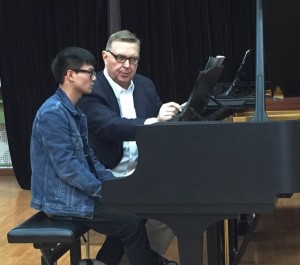 Chengdu is the capital of Sichuan Province in China, home of what used to be called "Szechuan Cuisine" or, as my nephew calls it, "Chinese food that will blow the top of your head off". Luckily, since I have been there several times, I like spicy food.
Chengdu is also the home of the Sichuan Conservatory of Music, by many accounts the largest school of music in the world. 18,000 music majors, I was told (the website says over 14,000), 800 piano majors and over 30 piano teachers. When I visit I teach on the eighth floor of a fairly sizeable skyscraper, one of many such buildings on the Conservatory Campus, and stay at the Philharmonic Hotel, also owned by the school.
I heard many talented students during my visit this year and I found the playing very sophisticated. In some ways, more so than some playing I hear in the U.S. What struck me most of all was students' sophisticated use of the damper pedal: full pedal, half pedal, with and without gradual release, finger pedal and no pedal, which of course is a color all its own.
I'm going to work more on this with my own students.