This is the third post in a four-part series on how technology is changing music education. Check back tomorrow to read the conclusion, or subscribe to new posts by email!
The "Gamification" of Education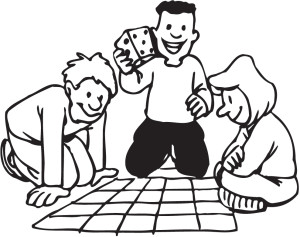 Many of today's music-teaching apps and software are structured like games.
A study from NYU and CUNY found that "well-designed games can motivate students to learn less popular subjects, such as math, and that game-based learning can actually get students interested in the subject matter—and can broaden their focus beyond just collecting stars or points." 1
"Gamification" is a hot topic in education today. Authors from the Massachusetts Institute of Technology 2 observe that game players exhibit "persistence, risk-taking, attention to detail and problem-solving skills"–all skills that we want our music students to display. Games allow players to build understanding in an active, involved way rather than by passively listening to a teacher; they learn at their own pace while collaborating and achieving just-in-time learning.
Gamification works in my studio. When my students use educational software structured as games, they try harder and learn better, without prompting from me. And kids—including grown-up kids—like games. For them, it's a fun part of music study. "We have to expand our mission and get people in the door," Kristin Yost observes. "Teachers are being forced to ask how to accomplish this in our age of symphony bankruptcies."
Apps and Software for Learning
Games are an important part of what technology has to offer music learners. But their benefits are not just for students. I think technology frees teachers to do what they do best: connect. "Technology frees teachers to use their 'soft' skills: communication and creativity", says Kristin.
Apps and software are already changing the structure of music lessons. Many tasks that "ate up" contact time with the teacher can now be off-loaded to technology, with teacher supervision. 3 Piano Maestro is an app that can monitor progress at the keyboard and check note and rhythm accuracy while student plays a repertoire that includes many pop songs. Playground Sessions is a similar program.
Apps like Tenuto or Music Ace can explain concepts of musicianship, provide drill activities and monitor student learning, so that each student doesn't proceed to the next level without true mastery of the preceding material. Some teachers I know make their own theory program and post it on-line using a service like Edmodo or Udemy.
Technology can make playing the piano more fun. I have worked with George Litterst on apps (well, he did the app, I edited the content) that can accompany students playing Christmas music composed and arranged by the incomparable Christopher Norton. The accompaniment can even speed up and slow down perfectly in sync with the student. 4
Apps for Running Your Business
There are several of these. Since my main teaching responsibilities are at the University of Kansas, I have only a few pre-college students and haven't made use of studio management apps. I have heard good reports about Music Teachers Helper. But don't go by what I say: check out one of the many Facebook piano teaching groups and see what active users say. Instagram and Pinterest are also full of good ideas.
Apps I use
Here it is: the list of apps and software that I use in my own teaching. It's a grab bag of tools that I have learned about from Facebook Teachers groups, friends, and trial and error.
I've already mentioned my Disklavier, which I use for playback and long distance teaching.
Rhythm and Meter
I use two metronome apps: Tempo, which I like because of its wide-ranging speeds and ability to choose subdivisions; I also use Pro Metronome for its ability to "tap" the speed your student is playing into the metronome and find out what speed he or she is actually taking.
PolyRhythm is a marvelous tool for counting cross rhythms.
Playback
I think the Amazing Slow Downer is…amazing. You can take any recording, by a famous concert artist or your student, and play it at any speed, without altering pitch. It's a great way to focus on details of tone, balance and pedal.
Technic
I'm just starting to use Coach's Eye, a video analysis app designed for sports that allows you to make quick videos and immediately review, play back in slow motion or with side-by-side comparison, do audio voice overs and use what they call "telestration", the ability to diagram on the screen. I think this will be very useful to talk about the mechanics of technic.
The "Gamification" of Education