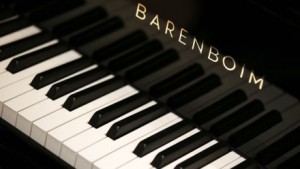 Charles Dickens called the piano America's "household God". But it's been a long time since those heady days in the last part of the 19th century when piano sales grew faster than the rate of population growth.
One factor in the relative decline of the piano, in my view, is the fact that our beloved instrument is more or less the same (with the exception of the sostenuto pedal) as it was in the 1870s, when 88-note keyboards started to become the norm.
So I'm always excited to hear about new technological innovations. The Barenboim-Maene piano, developed with support from Steinway and Sons, has straight, parallel strings, instead of the cross-stringing prevalent on modern instruments. This is a traditional design that the world-famous conductor and pianist Daniel Barenboim was inspired to revive after playing on a straight-stringed piano in Siena once owned by Liszt. Barenboim feels his new piano offers a range of colors and registers not available on cross-stringed instruments. He premiered the Barenboim-Maene piano at the Royal Festival Hall in London last month; he is playing a series of recitals there devoted to Schubert on the instrument.
Liszt was not the only composer-pianist to work on a straight-stringed piano. The article above mentions my respected colleague Gwendolyn Mok. You can visit her website to read a couple of interesting interviews in which she talks about (among other things) her recordings of Ravel played on a straight-stringed Erard, the same type of piano Ravel had at his home in Monfort l'Amaury.